All our staff are happy to advise you on our practice facilities, and give advice on types of treatment available, and the cost.
Kav Mehta BDS
Kav joined Keyworth Dental Practice March 2021 as senior partner. Kav is a kind, caring and thoughtful clinician. He has a gentle manner and works hard to achieve the very best for his patients. He is conscientious, thorough and a great communicator and clearly well-liked by both patients and staff. Originally from Nottingham, Kav qualified from King's College London in 2009. He has since worked at the Queen's Medical Centre, carrying out Oral and Maxillo-Facial Surgery and has worked in both NHS and private general practices across the Midlands.
Kav has a passion for oral surgery, prosthetics and was also awarded the Certificate for the 1-1 course at Sheffield University in providing dental implants. This is an option he intends to introduce for his patients here at Keyworth Dental Practice
Kav has a vision for Keyworth Dental Practice to be a key pillar within Keyworth; not only providing excellent dental care for patients from Keyworth and the surrounding area, but also to be involved with local community projects and affiliating the practice with local charities.
In Kav's free time he is a sports enthusiast and loves watching anything competitive, he has a particular interest in football and is a Man United supporter. When he's not watching sports he enjoys watching movies both new and old.
Kav is looking forward to getting to know his patients and providing dental care with a smile!
GDC Number – 177630
Aarti Mehta
Specialist Orthodontist
If you're interested in straighter teeth or braces, please call us on 01159 375 828 or email us. You can also refer a patient to us.
Aarti qualified with honours in dentistry, from King's College London in 2010. She qualified with distinction and was awarded with numerous prizes for her clinical and academic achievements.
In 2018 she completed her Orthodontic training with the University of Birmingham and graduated with a Masters in Science and was awarded her membership in Orthodontics.
She is an active committee member of the British Orthodontic Society's Orthodontic Specialist Group. She is a certified practitioner in Invisalign 'clear' braces, and Incognito 'lingual' braces.
Away from Orthodontics, Aarti enjoys travelling, eating out, keeping fit and her newest hobby is rock climbing.
Aarti prides herself on listening to her patients to deliver the smile they want. She has a warm and caring approach with the children and adult patients that she treats.
Creating smiles is what she does all day, every day, so we're confident you'll be pleased with the results. Book in to meet her and find out how passionate she is about giving you your smile back.
GDC Number – 192684
Mark Roberts BDS
Mark qualified from Liverpool Dental School in 1986. He started practice in Liverpool and on The Wirral until he moved to Nottingham in 1990 when he bought Keyworth Dental Practice. Since then the practice has built an enviable reputation for high quality dental care for all the family, in pleasant, relaxed surroundings. Mark feels that if a patient can understand the treatment, a better result becomes possible and will be sustainable. That is why he spends so much time discussing your dental needs and treatments. This he feels, is the essence of preventive dentistry.
GDC Number – 61199
Sachin Ghodke BDS

Sachin joined Keyworth Dental Practice in July 2008. Having qualified from Sheffield Dental School in 1993. Before joining us he worked in a private practice in Derby for eight years. He has been very keen in updating his skills and knowledge, attending numerous postgraduate courses over the years, these include cosmetic dentistry, implants and the treatment of head and neck pain. He has completed a two-year postgraduate diploma in restorative dentistry with a special interest in gum treatments. His other interests include photography and travelling. He is married and has two young children.
GDC Number – 69394
Pip Jardine
Practice Manager
Pip started nursing in 1999 and joined the team in 2003, in that time her role at the practice has evolved to include reception, administration, training and dealing with dental regulatory bodies. She has recently taken on the role of practice manager.
Pip also runs an Oral Health Education programme, this involves her going into schools, nursey and other community settings to help educate and promote good oral health. She has previously visited Keyworth Primary School and got to spend a lovely afternoon with the children of Parkes class, follow the link to see the activities and talk Pip set up. If you would like to know more about oral health education program, please contact the practice.
When Pip isn't at the Practice she enjoys spending time with her family and is a keen gardener!
GDC Number – 122213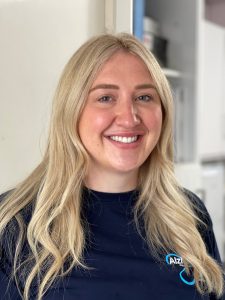 Christine
Dental Nurse GDC Number 216517
Christine joined the practice in 2009 she is an excellent dental nurse with a wealth of knowledge and experience. She left us for a short while during which time she gained further experience working as a locum nurse which enabled her to see various practices over the county, she then decided Keyworth Dental Practice was the best place to work!
In her spare time Christine spends time looking after her three large dogs. She is currently renovating an old farm house.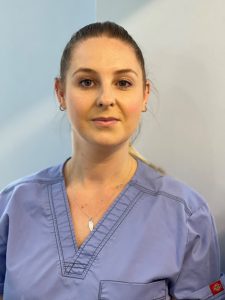 Kim
Dental Nurse GDC Number 261551
Kim joined us in 2018 she is our decontamination lead and is very diligent at ensuring that all our protocols and safety measures are up to date and adhered to. Her caring and gentle manner makes our patients feel relaxed and at ease when they visit our practice.
Kim has a young family and recently announced her engagement to her partner. She also enjoys life drawing classes and eating out.
Kim is currently on maternity leave
Rebecca
Dental Nurse GDC Number – 257581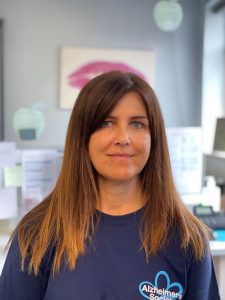 Jennifer
Receptionist
Originally Jennifer Joined the team as a dental nurse, she now heads up the reception side of the practice. With a wealth of knowledge Jennifer can confidently answer any queries or concerns you may have about your dental health when you call to make an appointment.
In her spare time Jennifer likes to spend time with her two dogs and enjoys walking and hiking with them and has recently taken up paddle boarding.